Survey results: What should manufacturers be planning for in case of a 'no-deal' Brexit?
25 January 2018
After UK Prime Minister Theresa May's proposed Brexit deal was roundly rejected on January 15, the chances of a 'no-deal' Brexit have increased significantly. While nobody can predict what this will mean for the European automotive industry, it is certain that OEMs will need to respond quickly should a 'no-deal' scenario occur.
With this in mind, we surveyed readers of the Daily Brief to find out how manufacturers should respond.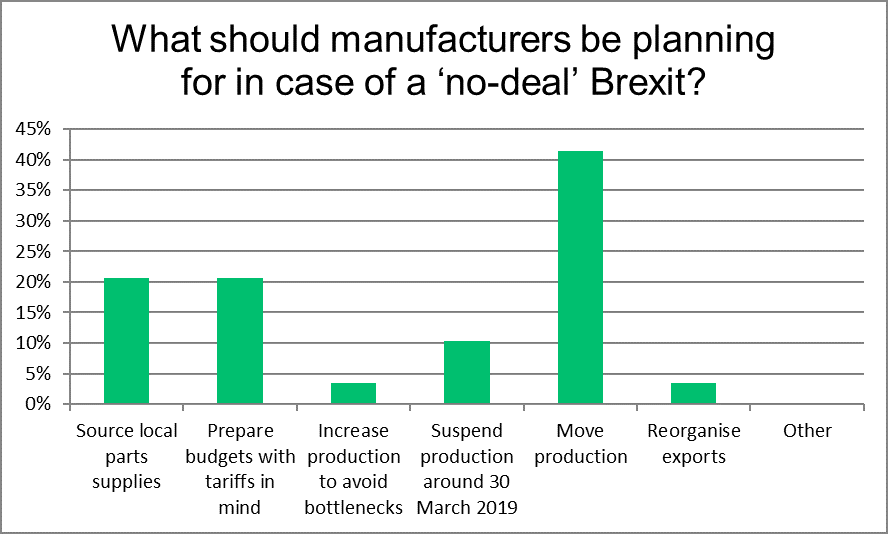 Taking the top spot was the dramatic option of moving production outside of the UK, which more than 41% of respondents thought would be the best solution to a 'no-deal' Brexit. Whether this would entail moving production to mainland Europe or even to another continent, a high number of respondents clearly no longer see the UK as a viable production location if the UK departs from the EU without a deal.
Similar action has already been taken by vacuum cleaner manufacturer Dyson, which has relocated its head office to Singapore where it will be building its new range of electric cars. While the move was said to be in the interests of 'future proofing', the manufacturer's timing is curious - especially considering James Dyson's pro-Brexit standpoint prior to the referendum in 2016.
The joint second most popular option with respondents was the sourcing of local parts, which is an incredible UK-centric solution but would at least retain more production of vehicles in the UK. The option of preparing budgets with tariffs in mind gained exactly the same number of votes (21%). However, this is a solution that is hard to plan for given that the tariffs to be applied will not be known until closer to the Brexit deadline.
Bringing up the rear were the options of suspending production around 30 March 2019 (10%), increasing current production to ensure no bottlenecks occur (4%), and reorganising exports (4%).
The message here is that the only certainty of a 'no-deal' Brexit is uncertainty. OEMs have a large part to play in the industry's response to any scenario that plays out but whether they abandon the UK as a production centre or remain and source parts locally, there will be untold effects on the automotive sector in the UK, Europe and even worldwide.