Automotive software companies Autofutura and GForces are to merge. The new group will help improve the way consumers buy cars.
Autofutura is a global data-driven business intelligence provider, while GForces provides automotive e-commerce and omnichannel solutions. The new group is backed by Inflexion Private Equity and also benefits from Autofutura's recently acquired Chrysalis Loyalty business.
The automotive industry is undergoing rapid digital acceleration, increased further by the COVID-19 pandemic and the resulting closure of physical sales locations. The merger of these two software firms will allow carmakers, dealers and finance providers to improve the efficiency of the sales process, simplify the customer journey and improve retention rates.
By combining their expertise, the firms will connect manufacturers, finance institutions and dealerships with the consumer and optimise the entire customer journey. It will do this through the provision of software and data services.
The new group will support over 10,000 locations across 96 countries, aiding around 36,000 vehicle sales per quarter.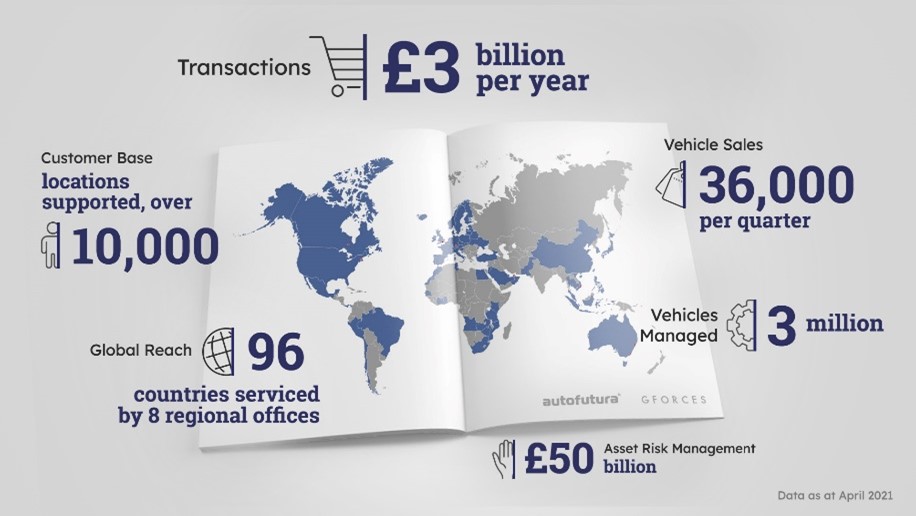 Source: Autofutura, GForces
'The digitisation of the automotive sales process is accelerating at an unprecedented pace, and now is the time to combine the expertise of Autofutura and GForces,' commented Christian Erlandson, CEO of the new group. 'By merging Autofutura's data intelligence insight with GForces' e-commerce solutions, there is huge potential to support our customers in streamlining the consumer journey, accelerating sales and driving revenue from the first transaction.'
Expanding digital marketplace
The automotive industry has been forced to adapt quickly to online sales. COVID-19 caused widespread disruption to new-vehicle registrations, especially in the second quarter of last year. With countries imposing lockdowns and dealerships closed as a result, sales plummeted in most markets. Various restrictions were imposed across Europe for the rest of the year, meaning the whole of 2020 could have gone the same way had online platforms not been developed and rolled out rapidly. In addition, used-car platforms became more popular as customers looked to ditch public transport for their travel arrangements.
COVID-19 has also impacted consumers, with many turning to online shopping for their needs and embracing digital channels. Therefore, the changes the automotive industry has made to survive the pandemic will likely last for many years to come.
GForces recently released a study that suggested moving more of the customer journey online can deliver a 50% pure transaction time saving (PTTS) and a 23% cost of sale saving (CSS) for UK automotive retailers.
By leveraging online sales, UK vehicle retailers could reduce the transaction time taken to sell a vehicle by 75% and cut the costs incurred in the process by 45%. The data indicate that, as per 2020, based on an annual used-car market of 6.75 million sales, the industry could save £9.5 billion (€11 billion) each year. Even a more conservative approach, based on a phased 30% transition to greater online selling, the sector could save £4.7 billion.
'Compared with sectors such as consumer goods and travel, which have been reaping the benefits of online shopping for decades, the automotive retail industry has been a slow starter, proving reluctant to move from traditional retail methods to ecommerce,' said Tim Smith, chief commercial officer at GForces.
'However, franchised dealers and used-car retailers who took a pioneering approach and already had systems in place before the pandemic fared better than those who did not, and with online car buying here to stay, are poised to prosper further in the future.'